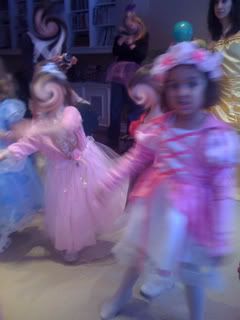 My 3.5 year old daughter went to a princess party after school!
It was the cutest site ever.  10 little girls dressed in their princess dress with their wands and tiaras/flower head bands, it was priceless!
 The girls played nicely with each other and there was very little yelling, screaming or crying.  I was in shock at how well behaved everyone was.
The party was a great success in my little girls eyes.  She was very excited that she got to meet a "real" princess, Belle, from Beauty and the Beast.  She even wanted to sleep in her dress, which I thought to myself why not, you're only a kid once!